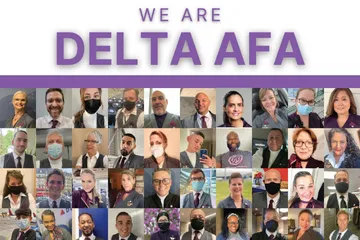 Ann Marie's story - "This is the moment for us"
Brittany's story - "While out on OJI, I felt isolated and alone"
Josh's Story - "We need work rules that allow us flexibility and freedom"
Linda's story - "Every commuter will be harmed by the lack of positive space"
Trish's story - "Scheduling issues occur frequently. Without accountability, it will not be corrected."
Heather's story - "I was never involved in a campaign before now"
Tiffany's story - "I never realized how important my union was until I lost it"
Why Becky Ley joined Delta AFA
Rasaq's story - "We should be able to speak up for ourselves and our colleagues without fearing that we'll be targeted"