News
Why should our retirements be valued differently?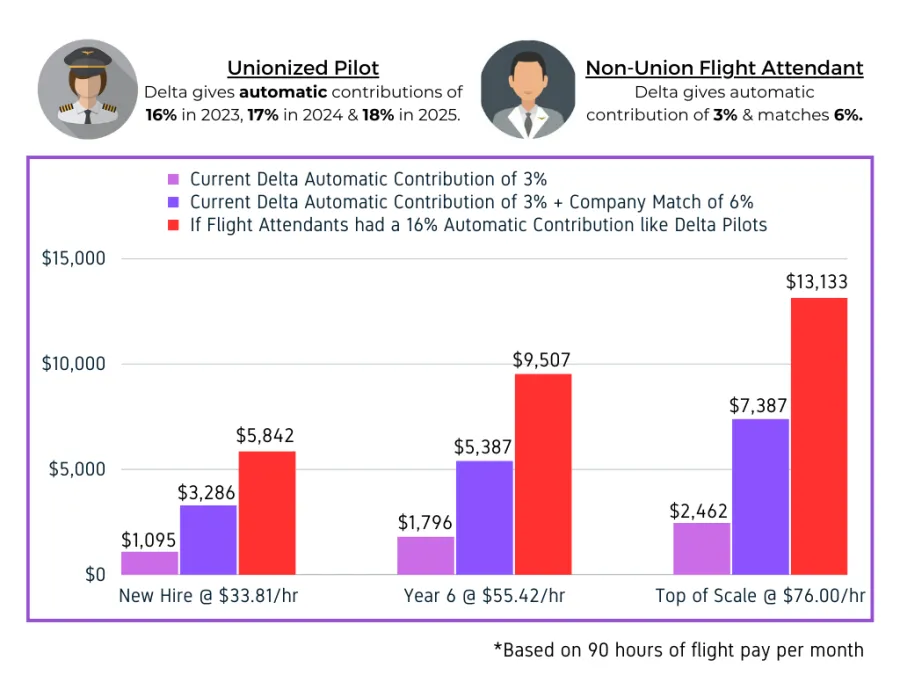 Delta management loves to talk about how we're a family. Yet when it comes to planning for retirement, they're playing favorites. Delta Flight Attendants get an automatic 3% contribution to their 401k every paycheck. How much do Delta pilots get? 16%. Even when compared to other Flight Attendant groups, Delta is no better than average when it comes to ensuring our financial futures. No Flight Attendants would argue that we should get the same wages as pilots, but why should our retirements be valued differently?
A new hire flying 90 hours a month would net $1,095 per year with the current automatic 3% contribution. Contributing 6% of your own income to get the company match would get you up to $3,286 per year. However, if we negotiated the same rate as pilots, Delta would be putting $5,842 into our 401k without us contributing a single dollar of our own. A Flight Attendant at the top of the pay scale flying 90 hours a month receiving a 16% automatic contribution from the company would earn $13,133. Imagine the financial security and peace of mind that could provide. The only reason that pilots receive this benefit and Flight Attendants do not is because they have a union and collectively bargained for a strong retirement plan.
For all their mention of "industry leading pay," our retirements are no better than average among other airlines. We deserve the ability to negotiate for an industry-leading retirement package reflecting our contributions to the industry's most profitable airline.
Let's form our Delta AFA union. We deserve to have a voice in our future. Stand Up! Sign your card, then sign up to join hundreds of our flying partners as activists on our campaign.
Your trip has gone away, so let's protect our pay!
Prices on the rise, but you don't get to decide
"I want a fair system to be able to call out if we're sick"