We are the Delta Flight Attendants who are organizing Delta AFA. We're organizing for a real voice on the job, work rules management can't just change, and industry leading compensation to match our contribution to the industry's leading, most profitable airline.
We're working to form our union so all of us have a say in our workplace and a contract that locks in everything we love.
We're proud to be your flying partners. We're union proud. We're Delta proud.
Join us. Sign your card and get involved. Together, there's nothing we can't achieve.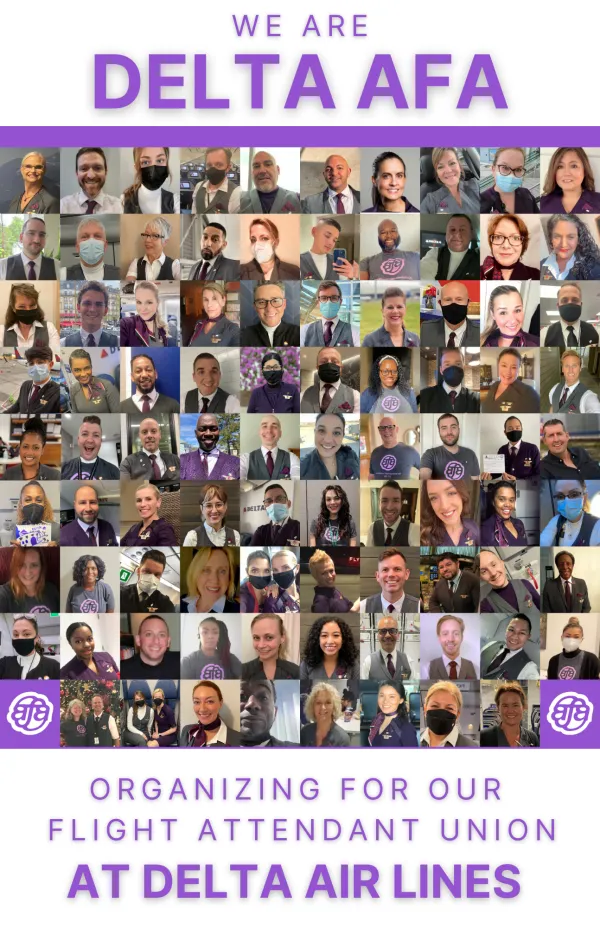 In Solidarity,
Your Delta AFA Organizing Committee
| | |
| --- | --- |
| Jason Adams, BOS | Eddie Lane, ATL |
| Rasaq Adeyemi, ATL | Jonnie Lane, NYC |
| Jody Ahrendt, MSP | Jonathan Lazenby, NYC |
| Austin Alford, SLC | Megan Lesperance, DTW |
| Patricia (Trish) Allen, NYC | Becky Ley, NYC |
| Joanie Amato, DTW | Josh Longfield, NYC |
| Lauren Balionis, NYC | Gregory E Love, ATL |
| Hayden Bell, BOS | James L Lucas, Jr., NYC |
| Dawn Berends, DTW | Patrick Mazurek, BOS |
| Demba Boundy, BOS | Meg McGowan, FLM |
| Michelle Brady, PTS | Ann Marie McGrath, NYC |
| Addisen Bray, SEA | George McTigue, NYC |
| Shameka Brown, ATL | Les Meeks, LAX |
| Nicole Calandra, DTW | Chevy Meyers, NYC |
| Shea Camp, DTW | Candace Miller Goldberg, ATL |
| Nico Cantu, DTW | Luanne Morrison, ATL |
| Katherine Cerstvik, ATL | Bennett Motta, SLC |
| Chris Ciccone, SEA | Rosalyn Nailer-Vega, DTW |
| Shaun Civitano, SEA | Melody Navarro, ATL |
| Paris Clark, ATL | Brittany Norris, NYC |
| Ari Correa, SEA | Tyler Okney, ATL |
| Noby Crisostomo, LAX | Mary J Pell, SEA |
| Josh Curry, SLC | John Polito, ATL |
| Caree Cutshaw, SLC | Tom Porter, ATL |
| Jack Dafoe, DTW | Jaylin Pruitt, MSP |
| Ann Davis, ATL | Jackie Ripley, DTW |
| Zachary Davis-Meade, BOS | Lori Rivecca, NYC |
| Adam Denissoff, NYC | Cruz Rodriguez, NYC |
| Laura Drewe, LAX | Aubry Sears, SLC |
| Kara Dupuis, ATL | Christina Simonin, ATL |
| Jacob Easter, BOS | Michael St. Croix, ATL |
| Marci Ehrhardt, DTW | Dee Sterling, ATL |
| Sherry Eubanks, NYC | Rich Stone, HNL |
| TJ Fackner, NYC | Boban Stoyanov, MSP |
| Ben-Lee Feliciano, SLC | Paul Tanner, NYC |
| Neille Fenderson, SLC | Michael Tate, BOS |
| Dustin Fletcher, SLC | Zach Unsworth, MSP |
| Albert Flores, LAX | Colleen Vanrisseghem, PTS |
| Daniel Haak, SEA | Rex Varner, SEA |
| Tiffany Henninger, DTW | Mel Viray, SFO |
| Steven Hills, ATL | Warren Walker, MSP |
| Katherine Hoff, SEA | Molly Watanabe, NYC |
| Veronica Johnson, SLC | Monica White, ATL |
| Shanti Jones, NYC | Tamara Williams, ATL |
| Jennifer Judd, DTW | Leslie York Wolf, MSP |
| Kenneth Kaminski, NYC | Nicole Young, ATL |
| Holly Kane, NYC | Dominic Zahner, MSP |
| Todd Kanemoto, NYC | Alex Zawadzki, SEA |
| Mahmood Khan, MSP | Josh Zivick, NYC |
| Leah Kitts, SLC | Ashlea Gentry, NYC |
| Juan Mogollon, NYC | Max Grilly, NYC |
| Eric Burgie, NYC | Joel Coll, NYC |
| Charles "Drew" Yates, DTW | Dory Stein, NYC |
| Dexter Coleman, ATL |   |
|   |   |
A crew meal made me sick, then management threatened to fire me
We're done with management deciding when we deserve improvements
The best part about this job is being together