News
Standing In Solidarity With the Union Movement!

Delta AFA Flight Attendant Organizing Committee activists representing ATL, SLC, NYC, DTW, and HNL, attended the 2022 Labor Notes Conference in Chicago, IL. Labor Notes is a gathering of grassroot union activists, rank-and-file union members, and union leaders from all over the world. We joined 4,000 activists in meetings and workshops to discuss organizing and building worker power to make our lives better.
The COVID-19 pandemic hit workers hard, and that was a catalyst leading many new organizing efforts. It was invigorating to speak about these changes with an array of workers, from baristas to longshoremen to delivery drivers. But one question kept coming up: "How is your campaign and what can we do to help?!"
"Labor Notes showed that we not only have a diversity of support within our own workgroup and airline, but we have grassroots support from thousands of workers across industries. I have never been more enthusiastic about achieving our Flight Attendant Union than I am now." - Josh Curry, SLC-based Delta AFA Flight Attendant.
Delta AFA Flight Attendants also met with leadership from the Association of Professional Flight Attendants (APFA), the flight attendant union at American Airlines, TWU Local 556 and 557, representing Southwest Airlines and Allegiant Air Flight Attendants, and United AFA Flight Attendant leaders. They are all very supportive of our campaign and want to help us win our union! We also talked about the power that we could build by working together to advance the Flight Attendant career.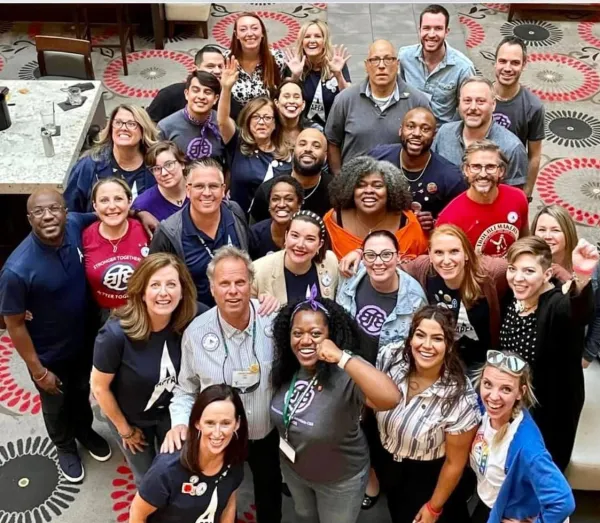 At Labor Notes, thousands of workers from hundreds of unions learned about our Delta AFA campaign, organizing our Flight Attendant work group for a real voice at Delta Air Lines. The response was overwhelmingly positive! We spoke to union activists and organizers about what it is like to work as a Delta Flight Attendant under the RLA without a contract. Hundreds of attendees signed up to help us - you will see them on your flights wearing Delta AFA buttons and stickers! They want to tell their story about why they are proud to be a union member in solidarity with our organizing efforts here at our airline.
We are the last major Flight Attendant group without a union, but with support of flying partners and workers around the world, we are changing that! We have an unprecedented opportunity to keep climbing even higher as Delta Flight Attendants by locking in better work rules, compensation, and a better quality of life for all 23,000 of us.
Get involved in our Delta AFA campaign here. We are organizing for our union because we are stronger together, better together. Sign a card. We stand in solidarity with all the workers who are fighting for safer working conditions and better compensation and benefits.
Detroit, home of UAW and Delta AFA
"When it comes down to it, I work to earn a living"
Did you miss Tuesday's Town Hall? Watch the Recording Here