News
I kept telling my family "It's just a delay"

I want to share with you the story of how unnecessary reroutes made me miss my daughter's 18th birthday.
It was the last day of a trip and it was going to be our last leg home, flying from Kalispell to Salt Lake City.
On our way to the airport in the morning, we ran into the crew that had brought that plane in the night before. They told us the Flight Attendants and pilots had reported the mechanical issue when they landed.
But when we got to the terminal, the repairs hadn't been made. After a rolling delay, they informed us the plane would be a while and took us back to the hotel.
Later in the afternoon, they recalled us to the airport, but the plane still wasn't fixed. In the end, they took us back again and issued us new rooms. We had to wait for the flight that came in that night and fly out with that crew the next day.
The most upsetting part was that Delta was never truthful with us. They knew the plane was broken the night before our scheduled flight, but they made us come to the airport twice for a plane that wasn't usable.
I kept hoping we'd take off, because my family had plans to celebrate my daughter's 18th birthday that night. I kept telling my family "It's just a delay." At least if they had been straightforward we could have made new plans early in the day.
With a contract, we can require that management contact us when the delay is known so we don't have to waste our time, lose sleep, and be put in a situation of facing angry passengers who want answers we don't have because management holds all of the cards.
I'm tired of being disregarded and ignored. I'm part of our Delta AFA campaign because I want there to be clear rules for how these issues are handled and communicated.
Sign a card today, then sign up to help our campaign. Together, we can make Delta the best place to work in aviation.
In Unity,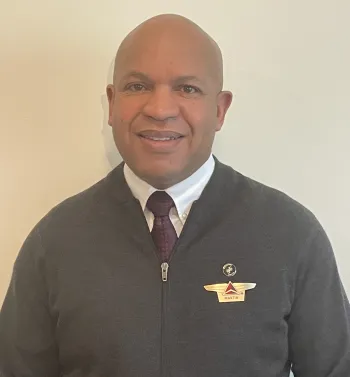 Martin, SLC
Delta Flight Attendant & AFA Activist
Detroit, home of UAW and Delta AFA
"When it comes down to it, I work to earn a living"
Did you miss Tuesday's Town Hall? Watch the Recording Here