News
Detroit, home of UAW and Delta AFA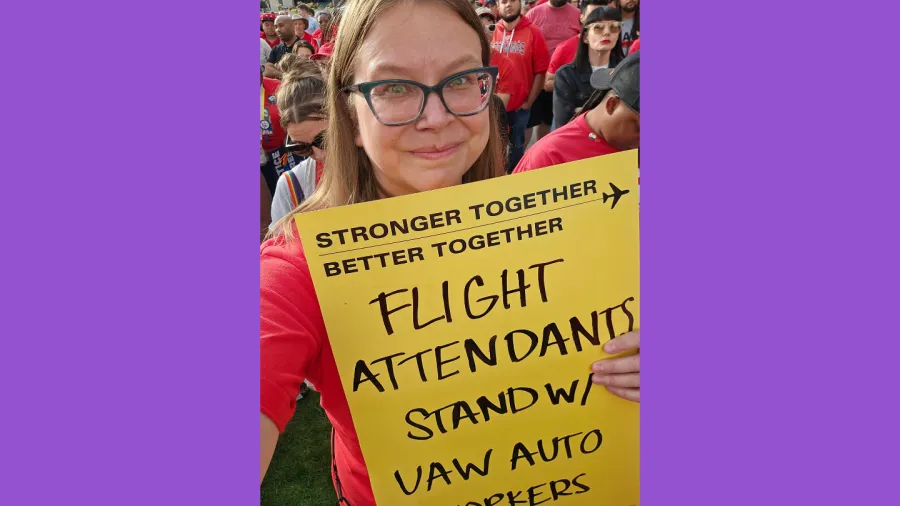 I was finishing a trip and heading home from work when the news broke that the UAW and the automakers had not reached a deal. Three plants would begin their strike at midnight, and one striking plant was right in my backyard.
Soon, I was standing in my Delta Flight Attendant uniform across the street from a UAW-represented Stellantis assembly plant in Toledo, Ohio, in solidarity with the workers walking out on strike. I grew up in a UAW family and learned about how my father and his union fought for dignity and fairness on the job. I wanted to show my support for the UAW members striking after the Big Three American automakers refused to negotiate a fair contract in good faith.
In Michigan, a union contract was a golden ticket to the middle class. A contract protected the workers and ensured that they were fairly compensated for their labor. A collective bargaining agreement guaranteed good healthcare, overtime pay, and fair vacation time. It made homeownership a possibility. Unions built Michigan, and the working class.
The Big Three Automakers have framed the strikers as a threat to the economy, but the real issue here is corporate greed. Corporations have been damaging our economy for generations by cutting wages and slashing benefits for workers. Corporate profits have skyrocketed while workers continue to suffer. To discourage employees from organizing, executives say, "Unions used to make sense, but we don't need them anymore," or "This company doesn't need a union, we're a family." Simply put, these lines are nothing but anti-union propaganda, designed to make people feel placated as corporate profits soar and the working class falls further behind.
While companies try to distract the American worker with pizza parties, they've been slowly stripping away the rights previously won through our unions. Corporations will never stop. They will always take more and repeal every worker protection law they can unless we stand together and stop them. Corporations will do anything in their power to keep us from organizing because even they recognize the power of unions. Thanks to collective bargaining agreements, working people have forced corporations to treat us as we deserve to be treated: as humans. We are not commodities that exist solely to generate profits for investors.
We're at a pivotal moment in the labor movement. The Writers Guild of America just reached a tentative agreement after striking over 150 days, Amazon and Starbucks workers are forming their unions, and our flying partners at other unionized carriers are fighting for fair contracts. Right now, at Delta, we are forming our Flight Attendant union with the AFA-CWA, and we will negotiate an industry-leading contract.
The UAW is using a new strike strategy called the "Stand Up Strike," meaning they'll announce new strikes at different factories as it progresses with no notice to the companies. This tactic is based on the CHAOS (Creating Havoc Around Our System) strategy that AFA-CWA developed years ago. As one reporter said on Twitter, "if it works, thank your flight attendants."
As Delta Flight Attendants, we need to support UAW workers on the picket line fighting for a fair contract, because a win for UAW autoworkers will be a win for all working class Americans. Unions are the vanguard of the middle class. The UAW workers are standing up to corporate greed and an unjust economy; their fight is our fight! UAW President Shawn Fain has returned the solidarity by sporting our "Delta AFA Supporter" button around Detroit and on national TV appearances.
Let's form our Delta AFA union. We deserve to have a voice in our future. Stand Up! Sign your card, then sign up to join me and hundreds of our flying partners as an activist on our campaign.
In Solidarity,
Marci, DTW 
Delta AFA Activist 
Proud Daughter of UAW Local 699
Your trip has gone away, so let's protect our pay!
Prices on the rise, but you don't get to decide
"I want a fair system to be able to call out if we're sick"