News
The best part about this job is being together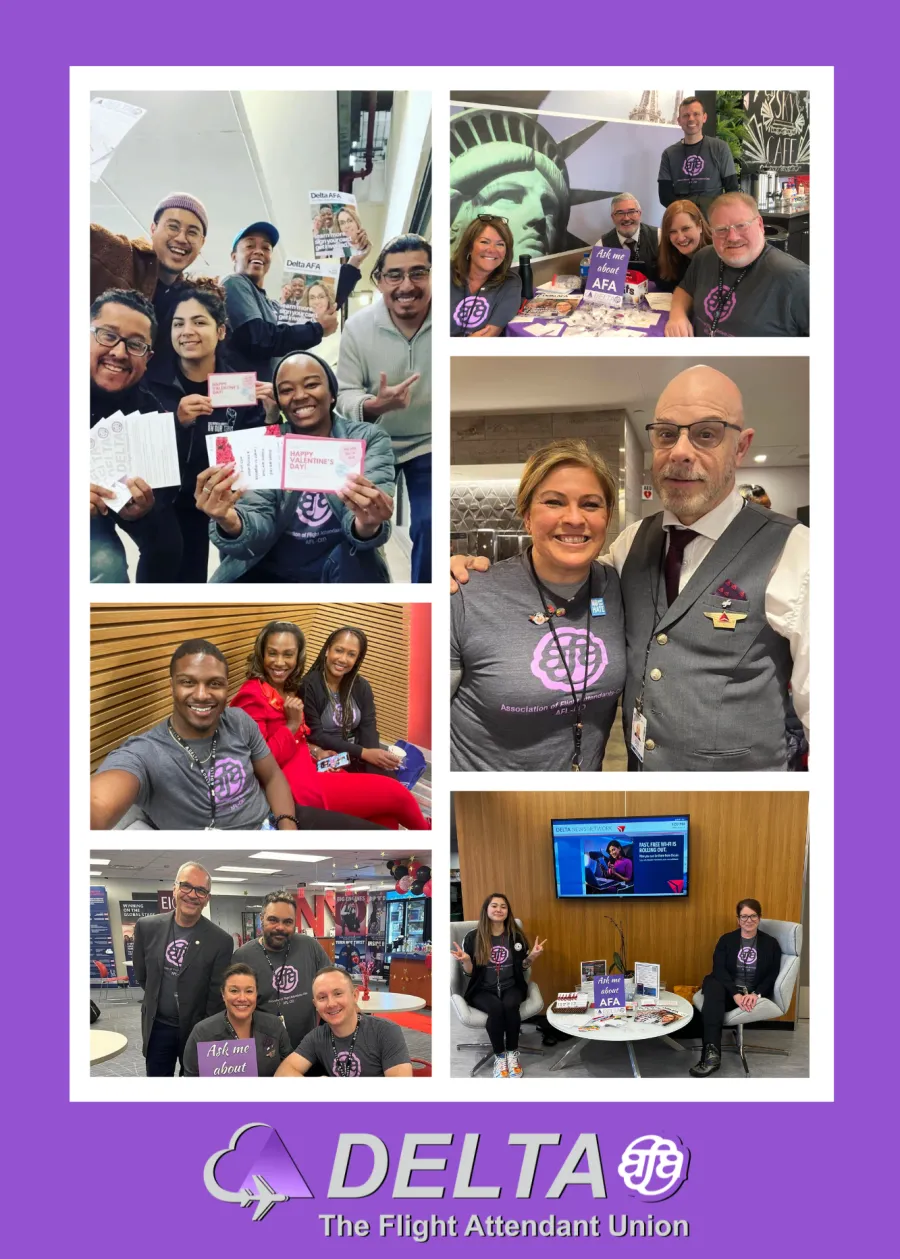 Today is Valentine's Day and at Delta Air Lines that means it's Employee Appreciation Day aka Profit Sharing Day.
Delta Flight Attendants and AFA activists are in the lounges and airports across the system today! Stop by and say hi, grab a pin, sign a card, then sign up to help secure our union. 
Management always promotes our profit sharing as a reason not to organize. But the truth is, the only way to ensure we keep profit sharing is to organize and get the benefits we've earned in black and white - in a legally binding contract.
Truth be told, we only have profit sharing because crews at unionized carriers negotiated it into legally-binding contracts—including our partners in the flight deck at Delta. Delta "gifts" it to us because they know they have to if they want to recruit and retain great cabin crews - and to provide the minimum necessary to try to persuade us from forming our union.
But until we have it in a contract, management can change the terms or take it away any time they want. In 2016/2017, management cut non-unionized workgroups profit sharing payout. That year, Flight Attendants received 10.3% vs. 17.8% that unionized workgroups received. Without a contract, this could happen again.
The big picture: Over the last decade Delta has made nearly double the profits as any other airline. Our profit sharing should be much larger because we make more money for Delta! Delta made $2.7 billion last year — $1.9 billion more than the next airline competitor. We should be sharing in that success.
Let's lock in our profit sharing, raises, and more with a contract!
And after all, it's Valentine's Day! Spread the love because the best part of being a Flight Attendant and organizing our union is being together. Share these digital Valentine's with your flying partners or download them all here. ❤️
In Solidarity,
Your Delta AFA Organizing Committee
Your trip has gone away, so let's protect our pay!
Prices on the rise, but you don't get to decide
"I want a fair system to be able to call out if we're sick"